Awards & News
Welcome to the news and events page. Check out all of our upcoming news and events listed below:
Promocares
LogoMyBiz.com is a an active member of PromoCares, focused on matching clients with products that support a variety of charitable causes to improve the world. We breathe life into the idea that our client's organizations purpose-driven work will be rewarded with improved bottom lines, enhanced community strength, and enriched staff recruitment and retention.
2017 Distributor of the Year
LogoMyBiz.com is very honored to be recognized this year
by our industry peers at the awards ceremony as the
2017 "Distributor of the Year" awarded yesterday during the
Rocky Mountain Regional Expo held at Mile High Stadium.
"Thank YOU" to our clients, distributor friends, and decorator partners for the recognition and your support.
Highly Recommended by Locals On Alignable
We service clients from several segments, and from a wide geographical range. Whether a private enterprise, public government office, or a non-profit organization, we have a Client Executive that is right to be of service to improve your business' promotional advertising experience.
Brewers Association (since 2015)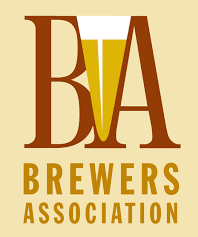 LogoMyBrew.com has been a proud member of the Brewers Association since 2015, serving our brewery clients by designing crafty swag ideas, for staff apparel, brewery event giveaways, free merch for visitors and/or for resale to pub clients.
LogoMyBiz.com is Committed To Ethical And Responsible Conduct
LogoMyBiz.com believes we must meet the highest ethical expectations of our clients and consumers. To that end, we have adopted standards for the quality and safety of the products we sell, and we are committed assuring that our manufacturing processes respect the rights of individuals and protect the environment.

LogoMyBiz.com will work to assure compliance with all applicable laws, and we will conduct business in an ethical, responsible manner. We expect the same commitment from all businesses that provide us products as primary manufacturers or component subcontractors. We also expect those suppliers to implement procedures to ensure continual compliance and upon mutual agreement will open their factories and records for audits by our company's staff or qualified third-party organizations.

1. Product Safety
Compliance With Laws and Standards. We will comply with all applicable laws and regulations regarding safety of products we sell. Where feasible and appropriate, we will meet applicable voluntary industry standards for our products and processes.
1. Product Quality
Expectations Consistently Met. We will support and expect manufacturing processes that ensure consistently met expectations of agreed-upon product quality and functionality.
1. Social Compliance
No Abuse Of Labor. We will not use any form of forced labor, including indentured, prison, bonded, or slave labor. Physical abuse, the threat of physical abuse, sexual or other harassment, verbal abuse, or other forms of intimidation shall be prohibited.

No Child Labor. We will comply with the minimum ages defined by ILO Conventions on child labor, or applicable laws and regulations if they specify to a higher age requirement.

No Discrimination. We will not discriminate in employment hiring practices on the basis of age, nationality, race, religion, social status, ethnic origin, gender, sexual orientation, political affiliation, marital status, disability, or other protected class as determined by local law.

Workplace Conditions. We will provide a safe, healthy, and secure workplace. We will abide by all applicable laws and regulations for safety and health.
1. Environmental Sustainability
Minimizing Adverse Impact. We will abide by all applicable environmental laws and regulations. We will manage our environmental footprint to minimize the adverse impact on the environment. We aim to manage our production processes, energy and water usage, and waste systems for maximum efficiency and minimal adverse impact on the environment.
1. Supply Chain Security
Product Security Through Delivery. We and our suppliers will implement procedures that ensure products have not been changed or tampered with from shipping point through delivery.
Ethical Behavior. Our supplier partners are expected to conduct their business in accordance with the highest ethical standards and will strictly comply with all laws and regulations on bribery, corruption and prohibited business practices. No money, assets, gifts, fees, bribes or compensation of any kind may be given to our employees or our affiliates' employees in an attempt to unduly influence such person's decision making abilities.
LogoMyBiz.com is Committed To These Business Principles
LogoMyBiz.com has adopted this Commitment to Ethical and Responsible Conduct Policy and expresses our sincere commitment to these principles. It is our guide to conducting our business decisions and relationships. However, by adoption and application of these business philosophies, we do not waive and expressly reserve all our rights granted us under applicable law.